The Skeleton Piano is returning with all-new music in March 2018: stay tuned!
Skeleton Piano Dances, Oct. 2015
In a dream-come-true collaboration, the Skeleton Piano was performed live onstage, combined with the inspired modern choreography of Agnieszka Laska Dancers and super-projected video art by renowned filmmaker Takafumi Uehara.
​
This amazing evening featured the world premiere of the full-length suite "Obscure Terrain" - seven movements of wild and unforgettable music that could never be recreated on another instrument.

Check out a full slideshow of incredible pictures from these shows at jenniferwrightpianostudio.com on the Performance page!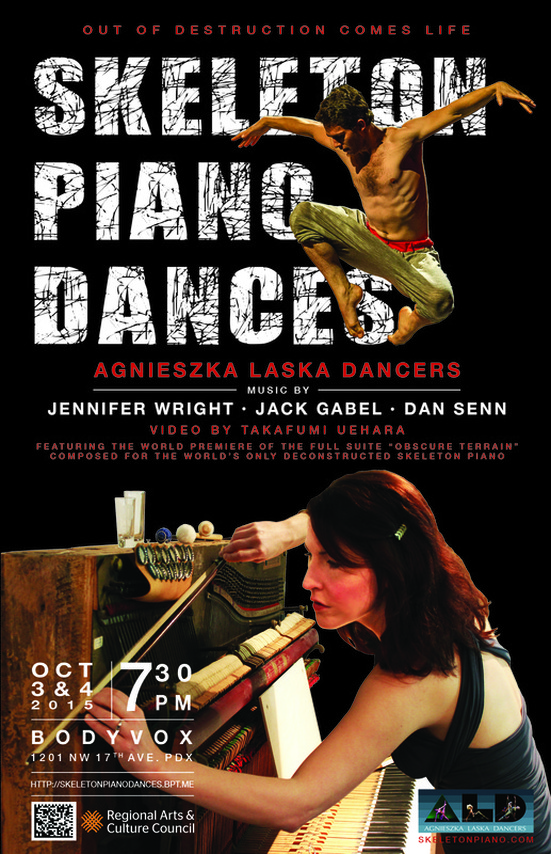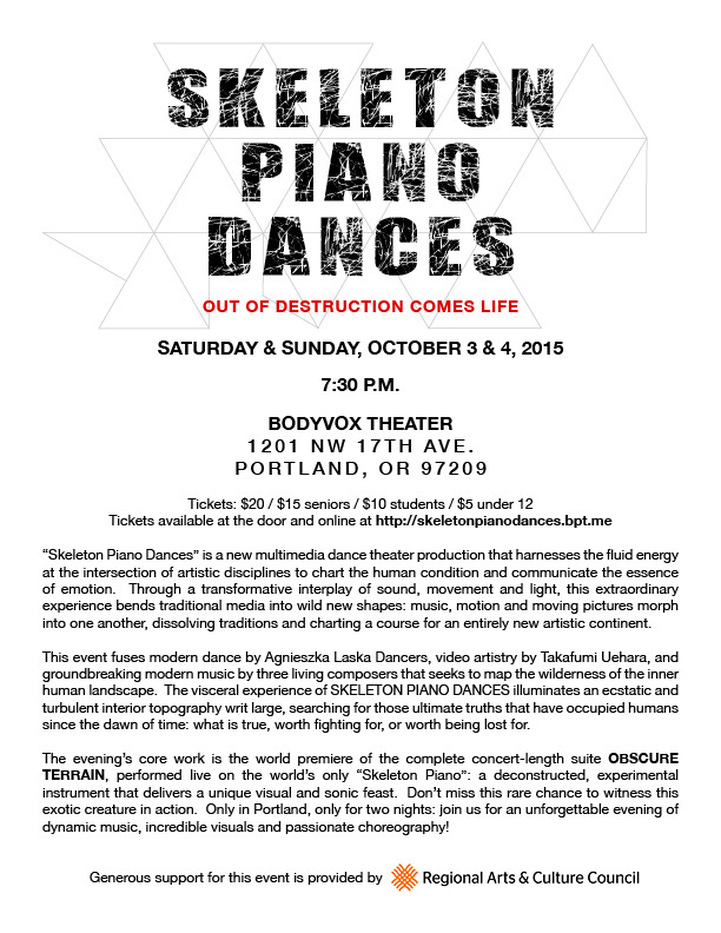 ---
A few shots of the dancers in rehearsal:
Allie Fahsholz, Karissa Dean, Sharon Lane, Lauren Sprague, Sophie Stensvad and Merlin Benneth.

---
SKELETON PIANO DANCES PROGRAM

JUST AFTER, LOOKING BACK for Gamelyde Trio (2010) (recorded)
by Dan Senn
choreography by Agnieszka Laska

The haunting, atmospheric sounds in this work were generated acoustically using a trio of original found-object 'Gamelyde' instruments created by composer Dan Senn. This modern reinterpretation of a gamelan orchestra consists of 39 pot lids with edges turned upwards like Tibetan bowls. The rich texture of complex, extended tones creates a meditative and moving space for ALD's modern choreography.

SOUNDING THE FURIES Virtual concerto for alto saxophone and digital electro-acoustics (1997)
by Jack Gabel
Tom Bergeron, alto saxophone /// video art by Takafumi Uehara

An ancient tale reimagined in contemporary guise, this 'virtual concerto' for live solo alto saxophone was inspired by the Trojan War legend of the Greek prince Orestes, who was tormented by the wrathful Furies (female spirits of vengeance) after murdering his mother. Spine-tingling multiphonics and timeless melodies weave mysteriously throughout the digital electro-acoustic soundscape, accompanied by a brand-new superprojected video art installation created for this performance by eminent video artist Takafumi Uehara.

- INTERMISSION -

OBSCURE TERRAIN for amplified/prepared Skeleton Piano & effects (2014-2015)
by Jennifer Wright
Jennifer Wright, Skeleton Piano /// choreography by Agnieszka Laska /// video art by Takafumi Uehara

1. Intro: The Map is Not the Terrain
2. Chant for the Unknown
3. Our Bodies Are the Real Continents
4. Terra Firma
5. Dislocated/Suffocated
6. As the Valley Explodes/No Spoken Words
7. Coda: Ozymandias

OBSCURE TERRAIN and the Skeleton Piano came into the world together, each creating the other. The project began as an exploration in discarding the unnecessary and opening up new sonic possibilities, a piratical hijacking of tradition. Rescued from the landfill and stripped down by sledgehammer, crowbar and chisel to its barest essentials, the Skeleton Piano has been reincarnated as a wildly capable sculptural sound machine. Unfettered by external trappings, its inner workings are laid bare to direct contact of all kinds with all manner of external materials. This unprecedented freedom of attack allows wild approaches to acoustic sound production, unearthing an orchestral range of unexpected and captivating sounds created with full-body performance techniques on all parts of the instrument.

The Skeleton Piano challenges every notion of what a keyboard instrument - or, indeed a pianist - is or could be. It requires its performer to evolve past traditional pianism and embody exotic extra-musical demands. As its systematic destruction demolished barriers and externalized the internal, it became a meditation on intrinsic meaning and a metaphor for the most universal of human ambitions: the search for self. As OBSCURE TERRAIN moves through terra incognita, it leaves behind a ghostly map of the wilderness of the human heart.

Each of the seven movements explores a unique capability of the Skeleton Piano, many of which could never (safely) be recreated elsewhere. Every time it is moved or played, it changes and falls apart a little more, its sound evolving. With every fantastical noise that is coaxed from it, it reminds us that, like all art and life, it too one day shall pass into eternity - like the ancient Egyptian King of Kings Ozymandias, who gave his name to the last movement.

Deeply musical and in turns lyrical, striking, shocking and fiercely rhythmic, the soundscape of Obscure Terrain is amplified and occasionally layered with electronic delay effects. It owes much of its energetic inspirations to U2 in their early days, before they chopped down the joshua tree.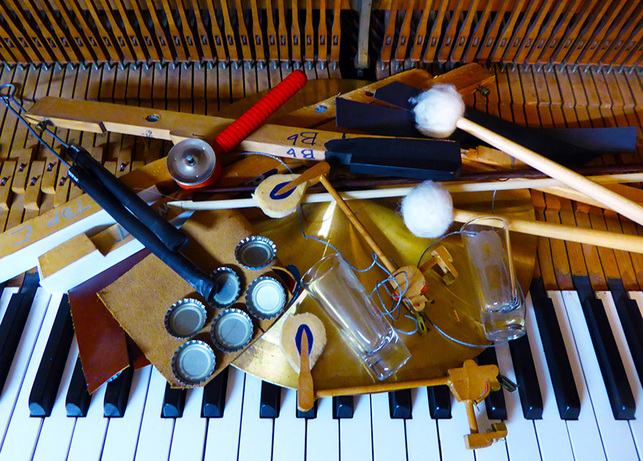 A sampling of the tools used to play The Skeleton Piano:
a violin bow, shot glasses, wire brushes, timpani mallets, picture wire, scrap wood, a homemade bottle cap mandolin rail,
cannibalized hammers and keys, a tambourine stick, magnet strips and a junkyard cymbal.